We manufacture pp mats(in various sizes) and granules .with the wide variety of designs and colors .pp mats quality comes in 4 types
Poly Propylene Mats
1.virgin
2.semi virgin
3.filler
4.non filler.
pp mats - pp mats is made up of By-product of crude named as (poly propylene).
flow chart-
applications - 1.daily use on any type of floors
-2.enhance the beauty of interior
-3.Easy to carry in travelling
-4.useful in yoga
-5.aasan
-6.useful in sitting while praying(namaji)
-7.useful in marriage functions for making the uneven floor flat(tent roll)
-8.easy to carry on beaches(foldable beach mats)
-9.easy to clean
-10. excellent choice for play school
Types of pp mats-
1 .virgin mats (Designer mats)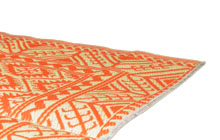 Our enterprise has gained immense recognition in the industry by offering an excellent quality assortment of virgin mats(designer mats). virgin mats are made up of virgin granules being used for the first time. It has highest tearing strength. Manufacturing this type of mats requires precise machine and highly skilled labour.it is highly durable and long lasting. Its color is so exquisite that it will enhance the interior of the house. Its soft texture will make you feel comfortable and u will feel as if u you are sleeping on soft foam bed. Designed with effective weaving technology, these mats conform to the prevailing market trends. In addition, these Designer Mats are sternly tested on a variety of parameters and are accessible at highly viable prices.
Features -
-long lasting and durable
-washable
- soft texture
- elegant designs
- superior finish
2. semi virgin
Semi virgin mats Manufactured using high-grade plastic material. These mats are being precisely designed and crafted by our professionals using excellent quality yarns and threads. This mat has gained popularity in the international market for its softness, colorfastness, attractive design, aesthetic look and durability. We offer this house hold fabric in different colors, designs, sizes and patterns to meet the varied needs of clients. Complying with the prevailing market trends, these mats are able to match contemporary home decor owing to their alluring designs.
Features -
- Attractive look
- Light weight
- Effortless cleaning
- Striking appearance
- durable

3.filler
We are recognized as the leading manufacturer, exporter and supplier of a beautifully designed range of filler mats. Filler mats are made up of recycled polypropylene material by adding filler in it due to this mats are very economical. Our mats are made from 100% recycled plastics and wash clean simply and easily. Our PP Mats have intricate designs and vibrant color combinations and therefore highly attractive. These mats are highly demanded in the global market. We offer these mats in different lively colors, designs, shapes and sizes to meet up the mixed wishes of clients
4 .Non filler
Save the planet and your floor with our unbelievable recycled floor mats! These durable floor mats are machine woven from recycled polypropylene to create an astonishingly lightweight finish. The benefit of woven recycled plastic is a soft, warm surface to walk or lie on that washes clean. . Designed and crafted in line with international standards using supreme class raw material under the able guidance of skilled professionals, these mats are highly demanded in the global market. To fulfill the variegated needs of clients, we offer these household mats in plethora of colors, designs and patterns. We offer these mats in unlike sizes to gather the mottled desires of the clients

Features
- Economical
- Light weight
- soft texture
-durable